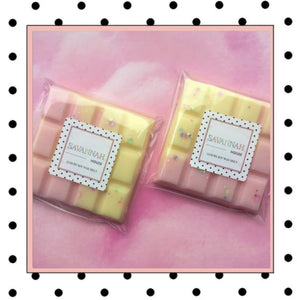 Rhubarb and Custard Soy Wax Melt Square Bar
An eternally gorgeous fragance of rhubarb with a charming old school twist of creamy custard.  A real room-filling fragrance.
Our square bars typically give 40 hours of fragrance! We would love you to share your wax melts in their new home!
How to use: We recommend you put 1 or 2 pieces into your wax melt burner - depending on your fragrance level preference. Don't overfill though. Carefully light an unscented tea light below. These wax melts can be melted a couple of times over!
Our melts are long lasting and strongly scented, so you'll be receiving compliments on how amazing your home smells!
Key features
Weight 40g approximately
CLP compliant
Burn time: 40 hours approximately
High fragrance ratio
Super scent throw
Pure soy wax
Warning - do not attempt to light wax melts. Do not leave your burner unattended.
---
You May Also Like