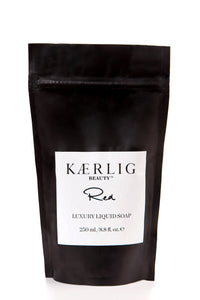 250/500 ml Refill Pouch of Red Luxury Liquid Soap
Welcome to Kærlig Beauty - Professionally hand-made skin-care.
What is your favourite colour? Each scent in the Kærlig range of liquid soaps has been matched to a colour. Colours themselves evoke emotions and we wanted to make that connection. How does Red liquid hand and body soap smell? There's only one way to find out!
Let's talk about Red - a sensory experience in a bottle - enhanced with skin-loving glycerine, jojoba, castor and coconut oils. Deep infusions of a heady blend of grapefruit and frankincense oils are added to give hands a gorgeous scent that lasts.
These luscious liquid soap wonders are pH-balanced so that they gently cleanse whilst being really moisturising. Rather boastful, I know, but they are lovely. The fragrance lasts ages! These soaps contain unique blends of oils - only Naked is unscented, just beautifully gentle.

Important - Kær for your lovely glass bottle by keeping on a dry shelf. Avoid placing on varnished, painted or surfaces that could be effected by the oils contained in the soap. 
Allergy warning: These soaps are manufactured in the same area where nut oils may be used.
---
You May Also Like