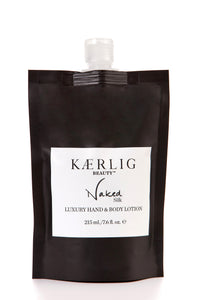 Refill Pouch of Naked Silk Luxury Hand and Body Lotion
A stylish refill pouch of our Naked lotion. Naked is fragrance-free and focused on pure skin goodness. A neutral base is perfect if you have a very sensitive skin.

Our Silk lotions are quickly absorbed and packed with skin-loving ingredients like grapeseed, apricot kernel and rosehip oils. If you have really dry and damaged skin, the Naked lotion will help restore your inner glow.

This is a vegan product and is cruelty-free too.

Refillable, glass bottles of luxury hand-lotion.  Naked is gorgeously fragrance-free and is just goodness in a bottle.

Silk - Directions for use: Ensure you have completely washed out your original Silk bottle and pump with sterilising fluid.  Simply slot the nozzle of the refill pouch into the neck of the bottle - slowly squeeze until completely empty. 

When applying to the skin, only a small amount is needed. Apply after hand-washing or right after a shower before skin dries. Massage slowly into skin for deep relaxation, always towards the heart. Avoid contact with eyes and test on a small area of skin before regular use.

Allergy Warning: These products contain nut oils.

Our Silk bottles are sold in Harvey Nichols - FREE UK Shipping on all orders over £20.