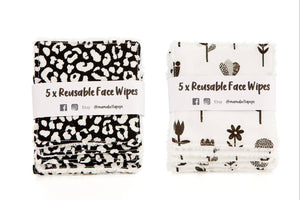 Pack of 5 Reusable Face Wipes
5 Square Reusable Face Wipes
Can be used as part of your daily cleaning routine to cleanse, exfoliate & smooth the skin. These are  excellent to use instead of a traditional sponge.
The face cloths are double sided, one side has super soft terry towelling and other has the beautiful cotton printed fabric.
These face wipes will become marked due to the nature of use so look after them by rinsing well after use & air dry. When they need washed, pop them in the washing machine & wash up to 40
At the end of their life/uses cut them up & compost them or add to garden waste.
These are available in two beautiful print designs that are exclusive to Kærlig Beauty.
These are handmade by Joy at Mama Bellapops.