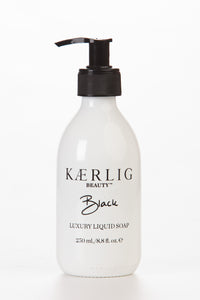 Glass Bottle of Black Luxury Liquid Soap
Let's talk about Black - a sensory experience in a bottle - enhanced with moisturising glycerine, jojoba, castor and coconut oils. Deep infusions of a heady blend of cedarwood oil and raspberry parfum are added to give hands a gorgeous scent whilst gently cleansing..
This Black range of soap is a PH-balanced, luscious wonder.  A special, natural formula means that it is actively moisturising whilst cleansing - all without being abrasive. Only Naked is unscented, just beautifully gentle.
Each soap is presented in a beautiful, glass, screen-printed bottle.
Your takeaway - they are stylish, exclusive, screen-printed glass bottles, vegan, sustainable, caring, unique blends, gentle, cleansing soaps!
IMPORTANT - Kær for your lovely glass bottle by keeping on a dry shelf. Avoid placing on varnished, painted or surfaces that could be effected by the oils contained in the soap. 
Allergy warning: These soaps are manufactured in the same area where nut oils may be used.
---
You May Also Like