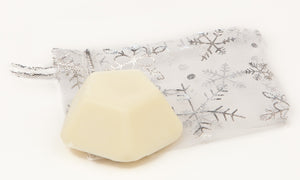 Luxury Purple Soy Wax Uno Melt - Single Pack
Key Features
Weight: 26g
CLP compliant
Burn time per wax melt: approx. 9 hours
Unique fragrance blends that are developed in-house and exclusive to Kærlig Beauty
Each 26g gorgeous soy wax melt produces room-filling fragrance. Depending on how strong you like a scent, carefully cut the wax melt into 2, 3 or 4 pieces. Place a piece in a wax melt warmer and light an unscented tea light below. It emits a beautiful fragrance that lasts.
Kærlig Beauty Wax Melts are handmade in Scotland using natural soy wax and the best essential and fragrance oils. This wax melt offers a clean, consistent burn. These can be melted a couple of times over!
Boasting our gorgeous Purple parfum oil blend. Purple is a rich, elegant infusion with the heady memories of dewberry fields forever.
Warning: Do not attempt to light wax melts.  Do not leave your burner unattended. 
---
You May Also Like