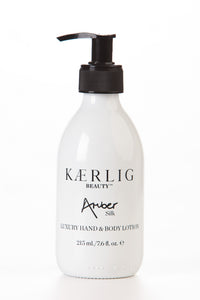 Amber Silk Luxury Hand and Body Lotion
Our Amber Silk hand and body cream is packed with fast-absorbing oils that have super-powered, skin-loving properties: grapeseed, apricot kernel and rosehip oils. Each re-useable glass bottle is richly infused with the alluring Amber fragrance blend of patchouli, sweet orange and lavender oils. Amber brings the spa home..
Of course, Kærlig Beauty is all about kæring, so being vegan and cruelty-free goes without saying. We will say though, just in case.
Silk - Directions for use: Only a small amount is needed. Apply after hand-washing or right after a shower before skin dries. Massage slowly into skin for deep relaxation, always towards the heart. Avoid contact with eyes and test on a small area of skin before regular use.
Allergy Warning: These products contain nut oils.
---
You May Also Like