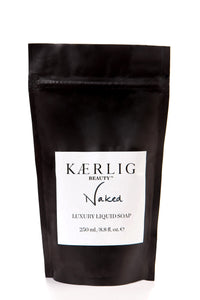 250/500 ml Refill Pouch of Naked Luxury Liquid Soap
Welcome to Kærlig Beauty - Professionally hand-made skin-care.

Let's talk about Naked Liquid Soap - kindness in a bottle. It is enhanced with skin-loving glycerine, jojoba, castor and coconut oils. Naked is unscented, just wonderfully gentle. 
These luscious wonders are pH-balanced so that they gently cleanse whilst being really moisturising. Rather boastful, I know, but they are lovely. These soaps contain unique blends of oils - Naked is unscented, just beautifully gentle.

Important - Kær for your lovely glass bottle by keeping on a dry shelf. Avoid placing on varnished, painted or surfaces that could be effected by the oils contained in the soap. 
Allergy warning: These soaps are manufactured in the same area where nut oils may be used.
---
You May Also Like