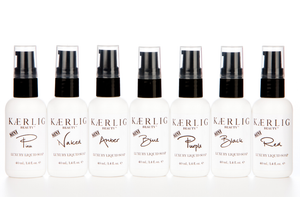 Mini Luxury Liquid Soap 40ml
Marvellous Minis!
Choose from the drop-down menu.
For more information about our seven variants, please hop over to the full-size version (big sis!)
What is your favourite colour? Each scent in the Kærlig range of liquid soaps has been matched to a colour. Colours themselves evoke emotions and we wanted to make that connection. Each 40ml mini liquid soap is in a re-usable and recyclable bottle and is enhanced with skin-loving glycerine, jojoba, castor and coconut oil.
These luscious wonders are pH-balanced so that they gently cleanse whilst being really moisturising. Rather boastful, I know, but they are lovely. The fragrance lasts ages!
Allergy warning: These soaps are manufactured in the same area where nut oils may be used.
---
You May Also Like