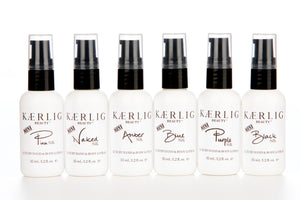 Mini Silk Luxury Hand and Body Lotions 35ml
Marvellous Minis!
Choose from the drop-down menu.
For more information about our seven variants, please hop over to the full-size version (big sis!)
Our 35ml MINI Silk hand and body cream is packed with fast-absorbing oils that have super-powered, skin-loving properties: grapeseed, apricot kernel and rosehip oils. Each bottle is re-useable and recyclable. 
Of course, Kærlig Beauty is all about kæring, so natural oils, being vegan and cruelty-free are what we are all about. We will say though, just in case.
Silk - Directions for use: Only a small amount of cream is needed. Apply after hand-washing or right after a shower before skin dries. Massage slowly into skin for deep relaxation, always towards the heart. Avoid contact with eyes and test on a small area of skin before regular use.
Allergy Warning: These products contain nut oils.
---
You May Also Like