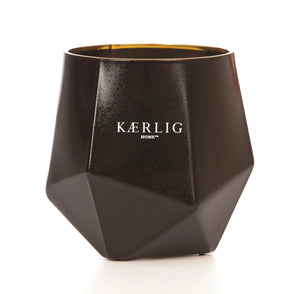 Yellow Luxury Picasso Candle - Black Vessel
Infuse your home with the aroma of this indulgent scented candle.. This luxury candle features our intensely luxurious Yellow fragrance blend of Sicilian lemon and vanilla with a hint of jasmine. 
Please note: these come in a plain white box.
Relax, breathe and #DareToKær
Approximate burn time - 30-40 hours 
Candle Care 
Candle Warnings: Candles can cause fires. Never leave a burning candle unattended. Keep warnings for reference but remove all packaging & labels before use. Keep away from draughts. Burn candle out of reach of children, animals and anything that can catch fire. Place candle holder on a secure, heat resistant surface (avoid TVs, stereos, & all plastic & wooden surfaces). Ensure plenty of space above and around the candle when burning. Keep away from away from shelves, walls, other candles or heat sources. Always leave at least 10cm between burning candles.
Extinguish immediately if the flame becomes enlarged, or smokes excessively. Extinguish immediately if candle flame comes into contact with the glass. To minimise risk of smoking & flaring, keep wick trimmed to a length of 5mm at all times. Do not touch or move the candle when it is burning, the candle holder may also become hot in use. Allow to cool. Extinguish when 1cm of wax is left (to avoid flaring). Avoid burning for extended periods, this may cause a build-up of debris which will lead to wax spillage. Check the glass regularly for signs of damage. Do not use if there are any cracks or chips in the glass. Extinguish with a metal spoon or snuffer. Never use water or blow onto hot wax, it will splash.
---
You May Also Like